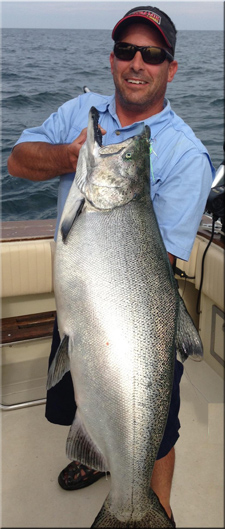 Captain Chris LoPresti
USCG "Masters" License




Charter Fishing is exciting, relaxing, fun and easy for everyone from beginning to end.


Putting you on the fish is what we do!!
Relaxing, catching
fish, and having fun
is what you do!!
Let's face it, a charter is only as good as the Captain is!

"As a professional guide, I have spent over 23 years fishing Eastern and Western Lake Ontario! I have seen many changes in its ecology through the years. The ability to adapt to these changes through fishing strategies and presentations of our baits is what makes Maverick Sportfishing the most innovative charter on the water." Innovation is the key to our success.

"As a young man I have had the opportunity to fish in every port on Lake Ontario, I have found throughout my many years of fishing, no other port on Lake Ontario that offers the bottom structure, current lines and thermo bars like the waters out front of Oak Orchard Creek. Allowing you to consistently catch the quantity and quality fish that we do. This is why I have decided to call Oak Orchard Creek my home."



- WE ENCOURAGE ALL OF OUR CHARTER CUSTOMERS TO GET INVOLVED-



Have you ever had a bad experience fishing on Lake Ontario with a Charter Captain?

• Have you ever felt like you have been deceived? Have you had a hard time getting your questions or concerns answered?

• Have you/your group ever felt like you have been bullied by your Captain into catching fish on your own charter; because that fish might be your last fish of the day and his reputation is more important to him than your satisfaction?

• Have you ever felt like your Charter Captain has not done enough for you and your group on the water to meet everyone's expectations?

• At the end of your charter experience, have you ever left saying "I will never come back to Lake Ontario Charter Fishing again " - as a result of how you were treated?

If you have answered "yes" to any of these questions,
then you simply did not experience the best Charter Fishing that Lake Ontario has to offer
. Give " Maverick" Sportfishing and Captain Chris the opportunity to prove you wrong. We will meet or exceed your expectations... from booking your trip, help finding your lodging,

keeping you posted on weather patterns so you do not arrive on a day that you cannot fish

, to putting fish in the cooler and smiles on your face.

Captain Chris is guaranteed to work hard for his customers -

BOAT RIDES WITH LACK OF ACTION AND LACK OF FISH IS NOT SOMETHING THAT HE TOLERATES VERY WELL!

; his knowledge of the water and fish allows "Maverick" to keep you in the fish consistently. Allowing you to put more fish in the cooler!! Captain Chris promises that he is willing to help no matter what your level of fishing expertise is - beginner, novice, or expert, child or adult, male or female. This Captain is always there with a smile to give you a lending hand if needed.

I am dedicated to providing you with the most enjoyable, exciting, and relaxing charter that will have you coming back for more."

Whether it's a family outing, a business adventure, a good time for the guys, or a break for the ladies; Maverick Sportfishing will happily accommodate all your needs. If tight lines, screaming reels, and trophy fish are what you're after, let Maverick Sportfishing be your only choice.

Still not sure if "Maverick" Sportfishing and Captain Chris LoPresti are a right fit for your Fishing Charter? Read the Rochester Democrat and Chronicle April 23, 2006 article on Captain Chris LoPresti