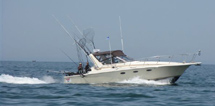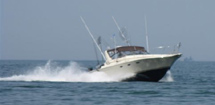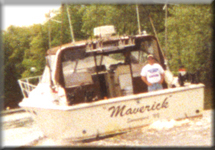 Enjoy the pleasure of fishing on the 33 foot, 10 meter Trojan International Express with an extra wide 13 foot beam that can fish six adult passengers comfortably. At 10 tons, the twin 454 Crusaders guarantee to get you to the action fast and smooth. Full, clean and private facilities add to your comfort.

Unfortunately we have no control over our weather... when foul weather does appear, and most boats are still tied at the dock, "Maverick" Sportfishing promises to deliver you a safe, comfortable and most productive outing as possible. After all, getting out on the water and catching fish is the number one reason why our loyal customers come here year after year! and "Maverick" Sportfishing recognizes this!!

"Maverick" is not your ordinary charter boat. "Maverick" is professionally "rigged" for serious fishermen. If you are interested in serious tournament fishing, like we are, where catching big fish is number one on your mind, and foul weather is second. "Maverick" has the crew, the length, the weight, the beam and the equipment to satisfy any serious fisherman or tournament team. If this sounds like you or your team, tournament dates and prices can be easily arranged. Please call Captain Chris at 585-749-2073 or email
chris@mavericksportfishing.com
.

"Maverick" is inspected by the US Coast Guard every year. The boat and safety equipment meets or exceeds US Coast Guard requirements.
"Maverick" Is Fully Equipped With:
• 5 Cannon electric down riggers
•

Furuno

Color Videograph (to locate your trophies)
•

Furuno Chart Plotter/ GPS/48 Nautical Mile Radar unit
• AM/FM/CD Stereo; "For extra fun feel free to bring your own CD's."
• Modern rods and reels of the highest quality
• Innovative lures and tackle
• Fish-Hawk Thermo- Troll Unit
• Coolers are provided for your catch while on board